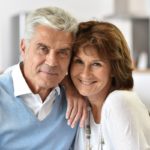 The eyes are the first thing people notice about us and therefore can have a significant effect on the way other people perceive us. Droopy eyelids or bags beneath the eyes can make you seem older or more tired than you actually feel. Luckily, a procedure called blepharoplasty can reverse these effects and make you look years younger. It can also have functional benefits for people who have obstructed vision, asymmetrical eyelids or difficulty keeping their eyes open.
If you have droopy upper eyelids or bags under your eyes, blepharoplasty may be the solution. In this post, the team at Island Eye Surgicenter discusses some signs that you could benefit from blepharoplasty.
Your Eyelids Feel Heavy
If your eyelids feel heavy it may be due to excess skin or fatty tissue which are forcing the muscles that elevate your upper eyelid to work harder to keep your eyes open.
Upper eyelid surgery can be used to remove excess tissues and take some stress off of your eyelid muscles. You will be able to open your eyes — and keep them open — with less effort.
Your Vision is Partially Obstructed
Droopy eyelids can sometimes become severe enough to limit your field of vision. You may notice that your peripheral vision is not as good as it used to be, or that your eyelids obstruct your view when you look up.
A lack of peripheral vision can make it harder to drive, play sports, or perform some types of work. An upper blepharoplasty can eliminate or reduce your vision impairment while also giving you a more youthful look.
You Always Look Tired
If friends or colleagues are always telling you that you look tired, it could be related to the appearance of your eyes. Both saggy upper eyelids and bags under your eyes can contribute to a tired look. Some people may even think you look sad or depressed, even when you feel fine.
If you're concerned about your lower eyelids, you can choose to have lower blepharoplasty. You may also combine upper and lower eyelid surgery for a more dramatic and noticeable change in appearance.
Schedule a Pre-Blepharoplasty Evaluation
Schedule a consultation with the eye surgeons at Island Eye Surgicenter to see if eyelid surgery is right for you. Call (516) 877-2400 to set up your evaluation at our Westbury eye surgery office.