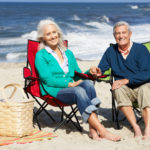 Two-thirds of people who are visually impaired or blind are women, according to the National Institutes of Health — but experts don't know exactly why. Read on as the team at Island Eye Surgicenter shares what women should know about their risk, and explains some of the most plausible reasons for the discrepancy.
What Are Women at Risk Of?
Experts at the American Academy of Ophthalmology and the National Institutes of Health say that women have a higher risk than men of developing eye disorders such as dry eye, glaucoma, cataracts and macular degeneration. Besides dry eye, all of these diseases can lead to low vision or blindness if left untreated. The National Institutes of Health's National Eye Institute estimates that 2.7 million American women over the age of 40 have low vision or are blind.
Possible Explanations
There are a few possible explanations for why women are more vulnerable to eye diseases than men. Consider the following:
Hormones – The hormonal fluctuations associated with pregnancy, menopause and taking birth control may increase the rates of eye diseases (particularly dry eye).
Lifespan – Most of these diseases are likely to develop later in life, and women tend to live longer than men. This would cause a higher volume of women diagnosed with vision problems like age-related macular degeneration.
Autoimmune disorders – There may be a link between the inflammation that often develops due to autoimmune disorders (e.g., Sjogren's syndrome and lupus) and eye problems. In general, women are more vulnerable to autoimmune diseases.
More research is needed to determine the exact reason(s).
Is There Anything You Can Do to Lower Your Risk?
Regardless of your gender, you may be interested in ways to reduce your risk of eye diseases and vision loss. Although there is no surefire way to protect yourself and entirely avoid problems, research has shown that healthy lifestyle habits like not smoking, eating a healthy diet and exercising regularly may lower the risk of problems. Managing existing health problems like diabetes or high blood pressure with the help of a doctor is also critical. Finally, routine eye exams every year for women over the age of 40 are strongly encouraged; catching problems early is the best way to preserve vision and eye health.
For more information about any of the eye disorders mentioned in this post, or to schedule your next eye exam, please call (516) 877-2400 or email Island Eye Surgicenter today.