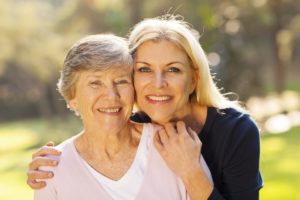 One of the most challenging parts of losing vision to cataracts is losing independence. What was once an everyday, routine task can become challenging (at best) or nearly impossible (at worst) with blurred vision, distorted vision or halos caused by cataracts.
Witnessing a loved one dealing with cataracts can also be challenging; it can be difficult to watch your spouse or parent struggle with cooking, cleaning and taking care of themselves as a result of deteriorating vision. For many of us, the natural impulse is to step into a caretaker role and do whatever possible to make our loved one's everyday life a little easier and safer.
The team at Island Eye Surgicenter would like to offer the following tips for taking care of a loved one with cataracts.
Driving
For someone that has developed cataracts, driving can be scary and dangerous – especially at night, when it is particularly hard to see clearly. Offer to help your loved one by transporting them to the grocery store, doctors' appointments and other errands. You can also set up a rideshare account like Lyft or Uber, so they can easily request a ride whenever needed.
Preparing Meals
Shopping and meal preparation may be difficult for someone experiencing the effects of cataracts. What appears to be a rotted piece of produce may actually be fresh due to colors that look dull or faded. Blurry or double vision may make it difficult to read the numbers on the stove or microwave.
It is no small task to grocery shop or prepare meals for a loved one, so employ the help of your family by setting up a meal train. Or, if your loved one feels comfortable cooking but not driving, consider a grocery delivery service like Shipt. Another option is a meal preparation service like Blue Apron or Hello Fresh, where meal ingredients are shipped weekly with easy-to-follow directions.
Preventing Falls
Limited vision due to cataracts can increase the risk of a dangerous or even deadly fall. Help your loved one avoid falling by taking an inventory of their home and doing the following:
Install railings on stairways
Install grab bars in bathrooms
Clear out any furniture, clutter or other potential hazards to create wide walking paths
Repair any slippery or uneven flooring
Talk to Them about Cataract Surgery
Cataract surgery is a safe and routine procedure in which the eye's clouded lens is removed and replaced with an artificial lens implant. It is generally recommended when cataracts start to interfere with daily life.
If your loved one has expressed interest in cataract surgery, you can help by researching qualified cataract surgeons in your area and perhaps setting up a consultation with one or two. Ultimately, it is up to the patient if and when they want cataract surgery. But you can connect them to the information and resources they need to consider their options.
Contact Our Team Today
For more information about cataracts and cataract surgery, please contact Island Eye Surgicenter at (516) 877-2400 today.