Robert B. Nelson, PA-C
Executive Director
Island Eye Surgicenter, L.L.C.
Carle Place, N.Y.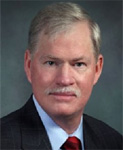 Robert Nelson, PA-C is Board Certified Physician Assistant and also the Executive Director of Island Eye Surgicenter on Long Island, New York. Island Eye Surgicenter is a three OR, AAAHC accredited, and Medicare Certified facility with over 40 Attending Physicians performing nearly 14,000 Ophthalmic procedures per year. Prior to joining Island Eye, Mr. Nelson served in similar Administrative roles at other Single and Multi-Specialty ASC's in the N.Y. Metropolitan region, as well as in Connecticut.
Having practiced as a Surgical PA since 1977 in areas such as General Surgery, Plastic and Reconstructive, Orthopedic and Vascular Surgery, and with an initial 13 years affiliated with prominent Park Ave. Plastic and Reconstructive Surgery practices, Mr. Nelson brought this extensive surgical experience to the field of Ophthalmology in 1993 and never left. In addition to his day to day management responsibilities running a busy ASC, Mr. Nelson still finds time to scrub on Cornea Transplantations, Glaucoma cases and many Oculoplastic and Reconstructive surgical procedures every week.
The unique combination of clinical experience and management expertise affords Mr. Nelson the qualities, knowledge and skill necessary to understand and run an efficient and successful ASC. As Executive Director, Mr. Nelson has day to day operational authority and accountability, as well as primary responsibility for maintaining local, State and Federal statutory compliance. He also oversees the centers Accreditation initiatives and he coordinates numerous pharmaceutical and device research studies conducted by Island Eye surgeons. He has published peer-reviewed articles on topics in Plastic and Reconstructive Surgery and has co-authored articles in the ophthalmic literature on TASS and OR Efficiencies. He is a current member of the Board of Directors of O.O.S.S. (Outpatient Ophthalmic Surgery Society), as well as a former Board member (and current member) of The ASC Association – Quality Collaboration.
Mr. Nelson is a 1977 graduate of the Physician Assistant Program at Harlem Hospital Center, a Columbia University College of Physicians and Surgeons affiliate. He holds a Bachelor of Science degree in the Medical Sciences from The New School in New York City, and has maintained his Board Certification as a PA since 1978.