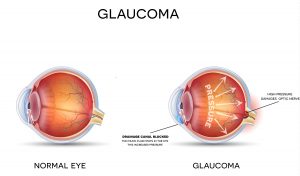 Glaucoma is a disease that causes damage to the eye's optic nerve due to a fluid build-up inside the eye. It affects around 2.2 million people in the U.S. and can lead to permanent vision loss or total blindness if left untreated.
In most cases, no signs or symptoms of glaucoma are present. Therefore, if you're over 40 years of age, regular, complete eye exams are especially important in order to detect glaucoma in its early stages.
To learn more about glaucoma, including the major types, risk factors, and control options, read on as the team at Island Eye Surgicenter shares 10 facts about glaucoma below.
10 Facts You Should Know About Glaucoma
There are two primary kinds: open-angle (the most common) and angle-closure (also known as closed-angle or narrow-angle).
Glaucoma is the second leading cause of blindness around the world.
People who have a higher risk of getting glaucoma include people over age 40, people with diabetes, and those who have a family history of glaucoma.
Glaucoma occurs more frequently among the African-American and Hispanic/Latino communities.
Glaucoma typically does not cause pain or produce symptoms until the disease has progressed to the point of noticeable vision loss, although people with angle-closure glaucoma may experience a sudden onset of blurred vision, intense eye pain, or halos around lights.
The only way to detect glaucoma is through a comprehensive, dilated eye exam, during which a tonometer measures your eyes' intraocular pressure (IOP). This test should be performed at least once every two years.
There is no cure for glaucoma, and the resulting vision loss is permanent.
Treatment and control options are available, however. They include the following:
Eye-drop medicines
Laser surgery (trabeculoplasty for open-angle glaucoma or iridotomy for angle-closure glaucoma)
Conventional surgery (trabeculectomy) to drain the eyes and reduce pressure
People with glaucoma should never stop taking any medicines prescribed without first consulting with their doctor.
Studies have shown that regular, moderate cardiovascular exercise can lower a person's risk of getting glaucoma. Not smoking and eating healthy can also reduce a person's risk.
What next?
If you'd like to speak to a professional about glaucoma and your surgical options, call or email the team at Island Eye to set up an appointment today.