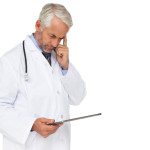 Have you noticed that your vision is growing increasingly cloudy or that it feels like you are looking through a waterfall or piece of waxed paper? If so, you might have a cataract in one or both eyes. Here, the knowledgeable team at Island Eye Surgicenter explains what a cataract is and what cataract surgery to correct the problem entails.
What's a Cataract?
A cataract is a progressive clouding of the eye's crystalline lens. A cataract can develop in one eye or bilaterally (in both eyes), but a cataract cannot spread from one eye to the other. In its early stages, cataracts can be treated with eyeglasses or contact lenses. As it progresses and increasingly impairs vision, however, the only way to treat the condition is to remove the cataract-diseased lens, with cataract surgery.
What to Expect During Cataract Surgery
To start cataract surgery, a small, self-sealing incision is made in the eye, through which the cataractous lens is removed. To facilitate lens removal, the Island Eye Surgicenter ophthalmologist performs a technique called phacoemulsification, during which ultrasound energy is used to break up the cloudy lens into microscopic particles. The particles are then gently flushed or suctioned from the eye.
To restore clear sight after the procedure, an intraocular lens implant (IOL) is placed in the eye. Island Eye Surgicenter offers a wide variety of IOL choices, including several premium IOL options. These include astigmatism-correcting toric lenses and multifocal IOLs that allow patients to see clearly at multiple distances. Based on your lifestyle habits, your ophthalmologist can recommend the IOL that is best for you.
About Laser Cataract Surgery
Certain patients may be appropriate candidates for laser cataract surgery, which involves using a laser instead of a handheld instrument for several of the steps performed during cataract surgery. For instance, an advanced femtosecond laser is used to create the incision and to fragment the cataractous lens, during this sophisticated approach. Using the laser minimizes the risk of complications that may (rarely) occur as a result of using a handheld surgical instrument to perform these steps.
Learn More
To schedule an appointment with one of our friendly and experienced ophthalmologists to learn more about cataract surgery and the available treatment options, contact Island Eye Surgicenter by calling (516) 877-2400 or (516) 877-1560 today.