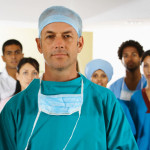 At Island Eye Surgicenter, your safety is of paramount importance to us. We take every precaution available to help ensure precise surgical outcomes and protect your safety overall. One way that we help ensure your safety is by earning accreditation for our surgical center. Keep reading to find out why it is critical to have your vision correction treatment performed at an accredited surgical center and the criteria that Island Eye Surgicenter has met or exceeded in order to obtain our accreditation.
Why Surgical Center Accreditation Is Crucial
Your vision is a priceless and irreplaceable asset. That is why it is essential to choose a highly trained and experienced ophthalmologist to perform your vision correction procedure.
You should also check to see that the surgical center where your vision correction treatment will be performed is accredited by a recognized and reputable organization, such as the Accreditation Association for Ambulatory Health Care (AAAHC). Being accredited by AAAHC or a similar organization demonstrates that the surgical center has met or exceeded rigorous criteria regarding safety, sanitation and emergency protocols that are set forth by the organization.
If you undergo your vision correction procedure at an unaccredited surgical facility, you could end up with poor visual results and perhaps even suffer serious surgical complications.
Criteria Island Eye Surgicenter Has Met to Earn Accreditation
In order to earn accreditation by AAAHC, the Island Eye Surgicenter has demonstrated that:
The ophthalmologists who operate at our surgical center are certified by the American Board of Ophthalmology.
Our ophthalmologists have admitting privileges at local accredited hospitals.
Anesthesia is only administered by qualified individuals (i.e., board-certified or board-eligible anesthesiologists or certified nurse anesthesiologists).
Everyone working in our surgical center adheres to all federal laws and guidelines set forth by the Occupational Safety and Health Administration (OSHA) pertaining to handling and disposing of hazardous waste materials.
Our surgical center has met or exceeded all other criteria established by AAAHC.
In addition to being safer, accredited surgical centers are generally cleaner, better equipped and better staffed than surgical facilities that have not earned accreditation from a reputable organization.
To learn more about Island Eye Surgicenter and our AAAHC accreditation, contact us by calling (516) 877-2400 or (516) 877-1560.