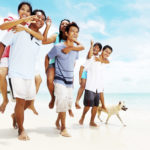 With summer quickly approaching, it's a good time to discuss how to protect your eyes from the sun. Here, the vision experts at Island Eye Surgicenter in Long Island share five tips that will keep your eyes healthy and happy all summer long.
Wear the Right Sunglasses
Your skin isn't the only part of you that can get sunburned. Photokeratitis, or sunburn of the eyes, is a painful condition that can cause eye swelling, redness, blurry vision and headaches. Research also shows overexposure to the sun can put you at risk of developing cataracts. Sunglasses are also useful for protecting the eyes from sand and debris that may be flying in the air and smoke from summer barbecues at the beach or park. For these reasons, sunglasses should always be a part of your summer wardrobe. Here are a few tips for choosing the right sunglasses:
Only wear sunglasses that are labeled UV400 or 100 percent UV protection.
Wear wraparound sunglasses to prevent the sun's rays from reaching your eyes on the side. Put on a broad-brimmed hat for extra protection.
Wear sunglasses whenever you step outdoors, even during cloudy weather (the sun's rays can penetrate through clouds!).
Avoid glare when around water or playing outdoor sports with polarized sunglasses.
Practice Eye Water Safety
Before taking a dip in the pool or ocean, here are a few things to know when it comes to eye water safety:
Always wear swimming goggles to protect your eyes from harmful substances (chlorine and other chemicals in pools; bacteria and/or debris in the ocean and lakes).
Avoid swimming with contact lenses to prevent bacteria and infection from entering the eyes.
Protect Your Eyes when Working on Home Projects
Eye injuries are very common, and in many cases, preventable. If you're planning on working on some home repair projects or mowing the lawn this summer, be sure to wear protective goggles to protect your eyes from flying debris, objects, chemicals and other dangers.
Adhere to Firework Safety
Speaking of eye injuries, thousands of people suffer eye injuries from fireworks each year. The best way to avoid an eye injury from fireworks is by attending a professional public fireworks show instead of purchasing fireworks for home use. If you do choose to purchase fireworks, the American Academy of Ophthalmology recommends wearing protective eyewear when handling them. Children should never be permitted to handle or play with fireworks.
To learn more eye safety tips, or to discuss your eye health with a board certified eye doctor, please contact Island Eye Surgicenter. Call (516) 877-2400 today.