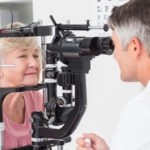 Cataract surgery is the most commonly performed surgery in the U.S. today — and one of the safest. The cataract surgeons at Island Eye Surgicenter regularly meet with potential cataract patients. Here, we share our answers to the most frequently asked questions about cataract surgery.
When is cataract surgery necessary?
Cataract surgery is necessary once it affects your everyday life. If clouded vision from cataracts impairs your ability to see well at night or properly perform everyday tasks like sending a text message, drive or read, then it is time to consider cataract surgery.
Can cataract surgery be performed on both eyes at the same time?
Cataract surgery is typically performed on one eye at a time. The second eye can be operated on once vision has stabilized in the first eye. If both eyes need cataract surgery, they are typically operated on a few weeks apart.
Is cataract surgery painful?
Cataract surgery is not painful. Before your surgery, we will numb your eyes using anesthetic eye drops. Following your procedure, you may experience some minor, temporary discomfort. We can prescribe eye drops or medication to alleviate this discomfort.
How do I choose an IOL?
Our team will help you choose the IOL that best fits your visual needs and lifestyle. Island Eye Surgicenter offers a variety of standard and premium IOLs to accommodate the diverse needs of our patients. Standard IOLs restore clear vision at one distance, which means patients may need glasses to see clearly at other distances. Multifocal and accommodating IOLs improve vision at multiple distances. Our team can go over the benefits and limitations of each IOL with you during a personal consultation.
Can insurance cover cataract surgery?
Most medical insurance plans cover the cost of cataract surgery and standard IOLs. Some premium IOLs may not be covered by medical insurance. Before choosing to undergo cataract surgery, be sure to find out the details of your insurance coverage.
Have More Questions?
To learn more about cataract surgery, including details about the procedure, please visit our cataract surgery page or schedule an appointment with us. Contact Island Eye Surgicenter. Contact our team by calling (516) 877-2400 today.