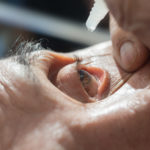 The FDA recently announced its approval of corneal cross-linking for the treatment of keratoconus, which is a progressive eye disease that causes blurred vision and other symptoms. The manufacturer Avedro developed a corneal cross-linking system (a combination of a drug and device) that the FDA deemed safe and effective for halting the progression of keratoconus. Here, the Island Eye Surgicenter team shares more about this development.
Understanding Keratoconus
Keratoconus is a disease in which the cornea gradually weakens and thins. Instead of maintaining its healthy round shape, the cornea takes on a conical shape. Individuals with keratoconus often complain about decreasing vision, nearsightedness, astigmatism and poor night vision.
In its early stages, keratoconus can be managed by changing prescriptions or wearing special glasses or contact lenses that offer astigmatism correction. Advanced stages of keratoconus can be treated with corneal inlays (e.g., Intacs) to improve the fit of contact lenses. In the most advanced cases, corneal transplantation may be necessary — yet risky.
Up until a few years ago, American doctors did not have a way to halt the early or moderate stages of the disease. (European countries have been offering the approved system since 2006.) The FDA's approval of Avedro's corneal cross-linking system changes that.
How Corneal Cross-Linking Works
Corneal cross-linking is designed to strengthen the cornea and stop the progression of keratoconus. During a corneal cross-linking treatment, the corneal tissues are first saturated with riboflavin drops and then exposed to a UV light. The combination creates a reaction in which the corneal tissue's collagen fibers bond to each other, increasing the strength of the cornea and halting the disease.
In most cases, a single treatment can provide the desired results; some individuals may require repeat treatment. The majority of corneal cross-linking patients continue to wear glasses or contacts after treatment, but their risk of the disease advancing is significantly lower.
Contact Island Eye Surgicenter
As some of the area's leading eye surgeons, the team at Island Eye Surgicenter is committed to the health and wellness of your eyes. If you have been diagnosed with keratoconus or another corneal problem, we are here to help. Please call (516) 877-2400 or email our practice today to request an appointment with our doctors.