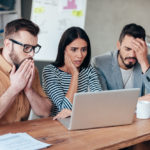 Despite their good looks, fame and wealth, celebrities are just as vulnerable to serious eye diseases as us mere mortals. Just like the patients we see at the Island Eye Surgicenter every day, famous people suffer from glaucoma, cataracts, bad eyesight, and other eye conditions. Read on for our "eye opening" list of visually impaired celebrities!

Bono
Do you ever wonder why the lead singer of U2 wears sunglasses all the time? It's not to make a fashion statement. Bono admitted he has had glaucoma for the past two decades and the condition makes him sensitive to light and glare.
Larry King
The award-winning talk show host admitted to undergoing cataract surgery in 2009. He later sent his video team to capture live footage of a Tennessee eye surgeon performing laser cataract surgery. The video was featured on an episode of King's program In View.
John Goodman
The Academy Award-winning actor spoke to MovieFone in 2013 and confessed he was taking some time off from movies and television to address a few health concerns, one of them being surgery to remove cataracts.
Missy Elliot
Elliot revealed in 2011 that she was diagnosed with Graves' disease, an autoimmune disease that causes the eyes to bulge or protrude. The Grammy award winner sought therapy and treatment and has not let the disease slow her down.
Bill Cosby
Cosby admitted in his 2014 biography that he lost most of his vision to a rare form of glaucoma. Like Bono, he used to wear glasses, but two surgeries improved his eyesight. Glaucoma is more common in African-Americans than Caucasians.
Mila Kunis
The television and movie actress opened up to Cosmopolitan magazine in 2011, revealing that she is blind in one eye because of chronic iritis (inflammation of the uvea, or the middle layer of the eye between the sclera and retina).
John Glenn
The astronaut and first American to orbit the Earth was lucky that his glaucoma was detected and treated early enough to save his vision. Glenn starred in a 2002 public service campaign, informing Americans of the risk factors of glaucoma and encouraging those at risk to be tested.
Contact Island Eye Surgicenter
If you have been diagnosed with a disease like glaucoma or cataracts, or noticed troubling visual symptoms, please contact Island Eye Surgicenter and request a consultation with our team. Call (516) 877-2400 to make your appointment today.