Valerie Trubnik, MD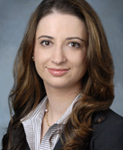 Dr. Trubnik is an ophthalmologist who has completed advanced specialty training in both the medical and surgical management of glaucoma. Dr. Trubnik is certified on the CATALYS Femtosecond Laser to perform Laser Assisted Cataract Surgery (LACS).
Dr. Trubnik received her undergraduate degree from the esteemed B.A. / M.D. program at CUNY Brooklyn College, where she graduated summa cum laude. She received her Doctor of Medicine degree with special commendation in investigative scholarship from the SUNY Downstate College of Medicine, where she attained membership in the Alpha Omega Alpha Medical Honor Society.
Dr. Trubnik completed her medical internship at the Lenox Hill Hospital and went on to complete residency training in ophthalmology at the renowned New York Eye and Ear Infirmary. Thereafter, she acquired fellowship training in glaucoma at the internationally acclaimed Wills Eye Hospital in Philadelphia.
Dr. Trubnik has presented original research at national ophthalmological conferences and has authored scientific papers for peer-reviewed medical journals. She has, in addition, coauthored a forthcoming book chapter with Dr. George L. Spaeth, former chair of the glaucoma department and director of the glaucoma fellowship program at Wills Eye Hospital.
Dr. Trubnik holds active memberships in the American Academy of Ophthalmology, the American Glaucoma Society, the American Society of Cataract and Refractive Surgery, the New York State Ophthalmological Society, and the Nassau County Medical Society.
A former professional ballroom dancer, Dr. Trubnik has competed in and won championships all over North America. She is also fluent in both spoken and written Russian and speaks conversational Spanish.
Dr. Trubnik is an associate of Ophthalmic Consultants of Long Island, OCLI. OCLI consists of over 30 eye doctors representing most specialties of ophthalmology in eleven locations throughout Long Island: Rockville Centre, Lynbrook, Valley Stream, East Setauket, Manhasset, East Meadow, Port Jefferson, Mineola, Garden City, Massapequa and Plainview.
Ophthalmic Consultants of Long Island – Mineola
33 Old Country Road, Suite 100
Mineola, NY 11501
Tel
: 516-739-6600
Ophthalmic Consultants of Long Island – Manhasset
1355 Northern Boulevard, Suite 300
Manhasset, NY 11030
Tel
: 516-627-3232
Ophthalmic Consultants of Long Island – Oceanside
2860 Long Beach Road
Oceanside, NY 11572
Tel
: 516-593-7709

Website: www.ocli.net/doctors-staff-long-island/dr-valerie-trubnik
Appointment Line: 1-866-SEE-OCLI (1-866-733-6254)
Office Hours: Monday – Friday with Saturday and evening appointments available. Please call the office for specifics.