Samuel Baharestani, M.D.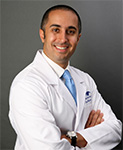 Dr. Baharestani is an Ophthalmic Plastic Surgeon certified by The American Board of Ophthalmology, a Candidate Member of the American Society for Ophthalmic Plastic & Reconstructive Surgery (ASOPRS), a Fellow of The American Academy of Ophthalmology (AAO), and a Member of the American Academy of Cosmetic Surgery.
Raised on Long Island, Dr. Baharestani is a graduate of Roslyn High School where he was a four year scholar athlete in volleyball and graduated with distinction in the top 2% of his class. A Phi Beta Kappa, Magna Cum Laude graduate of New York University's College of Arts and Science, Dr. Baharestani earned his Bachelor of Arts with Honors in Biology, including minors in Chemistry and Economics. At NYU, he was lauded as a Presidential Honors Scholar, named to the Dean's Advisory Council, and received the Harry A. Charipper Medal for outstanding contributions to the science of biology.
Dr. Baharestani received his MD from NYU School of Medicine where he was honored with the Glorney-Raisbeck Prize by The New York Academy of Medicine and a Fight For Sight Research Fellowship. After his Internship at Lenox Hill Hospital on Manhattan's Upper East Side, his surgical training in general eye surgery was completed at NYU Medical Center and Manhattan Eye, Ear, & Throat Hospital where he served as Executive Chief Resident and was recruited to join the faculty as a Clinical Instructor. Dr. Baharestani's ASOPRS-accredited fellowship in aesthetic and reconstructive eyelid, tear duct, and oculofacial plastic surgery was completed at The Cincinnati Eye Institute and University of Cincinnati Medical Center.
Dr. Baharestani has held academic appointments at NYU School of Medicine, The Manhattan Eye, Ear, and Throat Hospital, Lenox Hill Hospital, The North Shore-LIJ Health System, and The University of Cincinnati College of Medicine where he has taught future surgeons the latest advances in ophthalmic plastic surgery. He has over one hundred publications of original research, case presentations, book chapters, abstract submissions, invited lectures, and online medical contributions.
Dr. Baharestani is fluent in English, Spanish, and Farsi. He is a strong advocate for sight restoration in the developing world, having served on Unite for Sight's executive board and being named their Volunteer of the Year in 2005 and 2006. In his spare time, he enjoys traditional Persian cuisine, Billy Joel's music, New York Knicks basketball, exploring New York City, and traveling around the world.
Research Interests
Plastic & Reconstructive Surgery of the Eyelids, Orbit, & Lacrimal System
Cosmetic Surgery of the Eyelids and Brows
Aesthetic Rejuvenation of the Face
Practice Locations:
260 Middle Country Road, Suite 201
Smithtown, NY 11787
(631) 265-8780
www.nseye.com
1600 Stewart Avenue, Suite 306
Westbury, NY 11590
(516) 794-2020
520 Franklin Avenue
Garden City, NY 11530
(631) 265-8780
54 Commerce Drive, Suite 6
Riverhead, NY 11901
(631) 265-8780