Russell G. Fumuso, MD, FAAO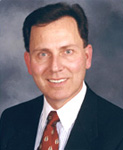 Dr. Russell Fumuso is a board-certified ophthalmologist specializing in cataract surgery with premium lens implantation, as well as all aspects of comprehensive ophthalmology. Dr. Fumuso is certified on the CATALYS Femtosecond Laser to perform Laser Assisted Cataract Surgery (LACS).
He received his medical degree from the Autonomous University of Guadalajara in Mexico. Upon graduation, he did two years of postgraduate studies at the State University of New York, Downstate College of Medicine. This was followed by a residency in internal medicine at the Kings County Hospital Medical Center in Brooklyn, New York. Dr. Fumuso then did his ophthalmology residency at St. Vincent's Hospital and Medical Center in New York City, serving as Chief Resident his final year. It was also during this year that Dr. Fumuso spent six weeks in India performing free cataract surgery on the poor and indigent population of that country. Dr. Fumuso served on the faculty at the State University of New York, Downstate College of Medicine, and is presently an attending surgeon in the Department of Surgery – Ophthalmology, at both Mercy Medical Center and North Shore University Hospitals. He is a recipient of the Physician's Recognition Award from the American Medical Association, as well as Certificates of Achievement from the American Academy of Ophthalmology. Dr. Fumuso is a Diplomate of the American Board of Ophthalmology, as well as a Fellow of the American College of Surgeons. Among the numerous special societies and organizations with whom Dr. Fumuso has memberships are the American Academy of Ophthalmology, New York State Ophthalmological Society, Long Island Ophthalmologic Society, Nassau Academy of Medicine, and the Nassau County Medical Society.
Dr. Fumuso is a Founding Partner of Ophthalmic Consultants of Long Island. OCLI consists of over 30 eye doctors representing most specialties of ophthalmology in eleven locations throughout Long Island: Rockville Centre, Lynbrook, Valley Stream, East Setauket, Manhasset, East Meadow, Port Jefferson, Mineola, Garden City, Massapequa and Plainview. Dr. Fumuso is also a partner at Island Eye Surgicenter in Carle Place.
Office Name
:
Ophthalmic Consultants of Long Island
2000 N. Village Avenue
Suite 402
Rockville Centre, NY 11570
Tel
: 516-766-2519
Website: www.ocli.net/doctors-staff-long-island/dr-russell-g-fumuso
Office Hours: Mon. by appointment, Tue. 8 a.m.-4 p.m., Wed. 8 a.m.-6 p.m., Thu. 8 a.m.-4 p.m.,
Sat. by appointment
Handicapped Accessible