Richard G. Davis, M.D., F.A.A.O.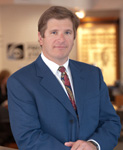 Richard G. Davis, MD is a board-certified Ophthalmologist offering comprehensive eye care including cataract surgery, glaucoma management, various laser treatments, diabetic eye care and general ocular health issues. He specializes in advanced cataract surgery procedures including true Laser Cataract Surgery and Premium Lens Implants.
Dr. Davis started practicing in the area in 1991 after completing his Ophthalmology Residency at SUNY Buffalo. When he arrived on Long Island, he founded the Ophthalmology Department at the Huntington Medical Group. Finding a multispecialty group too confining for his vision of what an Ophthalmology practice could be, he left there to start Precision Eye Care in 2000. Started as one of the first paperless practices in the country, it has remained one of the most technologically advanced practices in medicine.
Dr. Davis received his undergraduate degree from University of Pennsylvania in 1982 and his medical degree from Thomas Jefferson University in 1986. After a year of general surgery training, he became the Director of the Emergency Room at intercommunity Memorial hospital in Newfane NY.
Dr. Davis was one of the original founders of Island Eye Surgicenter and currently is the Medical Director of the facility. He is a Fellow of the American Academy of ophthalmology and a proud member of numerous professional societies.
Office Name
:
Precision Eye Care
1700 E. Jericho Turnpike
Huntington, NY 11743
Tel
: 631-462-2020
Office Hours: Mon., Tues., Wed. and Fri. 9 a.m.-5 p.m., Thu. 10 a.m.-9 p.m., Sat. 9 a.m.-1 p.m.
www.precision-eyecare.com
Handicapped Accessible