Henry Perry, M.D.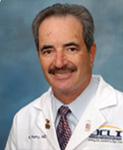 Henry Perry, M.D., is a board-certified ophthalmologist specializing in corneal, cataract and refractive surgery. Dr. Perry is certified on the CATALYS Femtosecond Laser to perform Laser Assisted Cataract Surgery (LACS).
Dr. Perry is recognized as one of leading eye surgeons in the country and is frequently asked to present and lecture to other physicians in the U.S. and internationally. He has authored nearly 200 scientific articles and book chapters pertaining to eye diseases and corneal surgery. Dr. Perry was the first eye surgeon on Long Island to win the prestigious Life Achievement Award from the American Academy of Ophthalmology. He has held countless prestigious professional and academic positions and is currently the Chief of Cornea Service at Nassau Medical Center.
Dr. Perry earned his undergraduate degree from Hofstra University and his medical degree from the University of Cincinnati College of Medicine. He completed his ophthalmology residency at the Nassau County Medical Center and the University of Pennsylvania Scheie Eye Institute. Dr. Perry continued his education with fellowship training in ophthalmic pathology at the Armed Forces Institute of Pathology, cornea and external diseases at the Massachusetts Eye and Ear Infirmary and cornea research at the Eye Research Institute of Retina Foundation.
In addition to being a Fellow of the American College of Surgeons and the American Association of Ophthalmic Pathologists, Dr. Perry is affiliated with the American Medical Association, the Association for Research in Vision and Ophthalmology, the Nassau County Medical Society, the New York State Medical Society, the International Society of Refractive Keratoplasty and the Eastern Ophthalmic Pathology Society.
Dr. Perry was a founding partner of Ophthalmic Consultants of Long Island, OCLI. OCLI consists of over 30 eye doctors representing most specialties of ophthalmology in eleven locations throughout Long Island: Rockville Centre, Lynbrook, Valley Stream, East Setauket, Manhasset, East Meadow, Port Jefferson, Mineola, Garden City, Massapequa and Plainview. Dr. Perry is a partner at Island Eye Surgicenter in Carle Place.
Office Name
:
Ophthalmic Consultants of Long Island
2000 N. Village Avenue
Suite 402
Rockville Centre, NY 11570
Tel: 516-766-2519
Website: www.ocli.net/doctors-staff-long-island/dr-henry-d-perry
Office Hours: Mon. 9 a.m.-6:30 p.m., Tue., Thu. and Fri. 8 a.m.-4 p.m., Sat. by appointment
Handicapped Accessible