Gerard D'Aversa, M.D.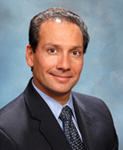 Gerard D'Aversa, M.D., is a board-certified ophthalmologist performing corneal transplant surgery as well as cataract and refractive surgery. Dr. D'Aversa is certified on the CATALYS Femtosecond Laser to perform Laser Assisted Cataract Surgery (LACS).
Dr. D'Aversa is a premier eye surgeon who uses the most advanced surgical techniques and technologies to perform vision correction procedures and corneal transplant surgery. He has appeared on several television news reports as well as print media, including the Daily News and Newsday. In addition, Dr. D'Aversa has authored numerous scientific articles and is frequently asked to lecture on topics pertaining to corneal and refractive surgery.
Dr. D'Aversa completed his undergraduate education, with honors, at the State University of New York in Albany, after which he graduated at the top of his class from the Albert Einstein College of Medicine. He served his residency at the Long Island Jewish Medical Center and completed fellowship training in cornea and external eye diseases at the University of Florida College of Medicine in Gainesville. Throughout his career, Dr. D'Aversa has held several academic positions, including Assistant Professor of Ophthalmology and Visual Sciences at the Albert Einstein College of Medicine.
Dr. D'Aversa is a Fellow of the American College of Surgeons and he holds memberships with numerous medical associations, including the American Academy of Ophthalmology, the American Society of Cataract and Refractive Surgery and the New York Ophthalmological Society.
Dr. D'Aversa is a partner of Ophthalmic Consultants of Long Island, OCLI. OCLI consists of over 30 eye doctors representing most specialties of ophthalmology in eleven locations throughout Long Island: Rockville Centre, Lynbrook, Valley Stream, East Setauket, Manhasset, East Meadow, Port Jefferson, Mineola, Garden City, Massapequa and Plainview. Dr. D'Aversa is also a partner at Island Eye Surgicenter in Carle Place.
Ophthalmic Consultants of Long Island – Valley Stream
70 East Sunrise Highway, Suite 400
Valley Stream, NY 11581
Tel
: 516-374-4199
Ophthalmic Consultants of Long Island – Garden City
711 Stewart Avenue, Suite 160
Garden City, NY 11530
Tel
: 516-500-4200
Website: https://www.ocli.net/providers/jerry-daversa/
Appointment Line: 1-866-SEE-OCLI (1-866-733-6254)
Office Hours: Mon. 12 p.m-7 p.m., Tue. 9 a.m.-3 p.m., Wed. 9 a.m.-11 a.m., Fri. 9 a.m.-2 p.m.
Saturday appointments are available, please call office for details.
Handicapped Accessible