David Sachs, M.D.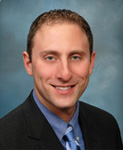 David Sachs, M.D., is a board-certified ophthalmologist offering comprehensive ophthalmology, including cataract surgery. Dr. Sachs is certified on the CATALYS Femtosecond Laser to perform Laser Assisted Cataract Surgery (LACS).
Dr. Sachs is a gifted eye surgeon who has authored numerous articles and three book chapters during his training and ophthalmic research. He currently volunteers at the Nassau University Medical Center, where he assists ophthalmology residents.
Dr. Sachs obtained his undergraduate degree at Brown University and his medical degree at Drexel University College of Medicine in Philadelphia. He completed his transitional internship at Lehigh Valley Hospital and his ophthalmology residency at Nassau University Medical Center/Stony Brook University, where he was Chief Resident. In addition, he completed a one-year fellowship in cornea and refractive surgery.
Dr. Sachs is affiliated with several professional organizations, including the American Academy of Ophthalmology.
Ophthalmic Consultants of Long Island – East Meadow
30 Merrick Avenue, Suite 100
East Meadow, NY 11554
Website: www.ocli.net/doctors-staff-long-island/dr-david-sachs
Appointment Line: 1-866-SEE-OCLI (1-866-733-6254)
Office Hours: Mon.-Thu. 8 a.m.-6 p.m., Fri. 8 a.m.-4 p.m., Sat. 8 a.m.-12 p.m.
Handicapped Accessible