Daniel Kiernan MD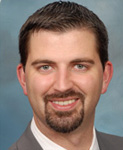 Daniel Kiernan, MD, is an ophthalmologist specializing in medical and surgical diseases of the retina. He is board certified from the American Board of Ophthalmology. Dr. Kiernan graduated from the University of Chicago with a bachelor's degree in biology. He received his doctorate in medicine from Chicago Medical School/Rosalind Franklin University, and completed his residency in ophthalmology at the University of Chicago Hospital, Pritzker School of Medicine. During his vitreoretinal surgical fellowship at the University of Illinois Eye and Ear Infirmary, Dr. Kiernan was awarded several accolades for his research in the imaging and treatment of retinal diseases, including awards from the American Retina Foundation, the National Institutes of Health and the Retina Society. He continues his interests in investigating both non-invasive and surgical approaches for the diagnosis and treatment of sight-debilitating retinal diseases, including age-related macular degeneration, diabetic retinopathy and retinal blood vessel occlusions.
Dr. Kiernan is a member of many professional societies, including the American Society of Retinal Surgeons, the Association for Research in Vision and Ophthalmology, the Pan-American Association of Ophthalmology, and the American Academy of Ophthalmology. He is also a reviewer for several peer-reviewed ophthalmology journals.
Dr. Kiernan is an associate in Ophthalmic Consultants of Long Island. OCLI consists of 26 doctors representing most specialties of ophthalmology in nine locations throughout Long Island: Rockville Centre, Oceanside, Valley Stream, East Setauket, Manhasset, East Meadow, Port Jefferson, Mineola and Garden City.
Office Name:
Ophthalmic Consultants of Long Island
Rockville Centre
2000 N. Village Avenue
Suite 402
Rockville Centre, NY 11570
Tel
: 516-766-2519
Oceanside
2860 Long Beach Road
Oceanside, NY 11572
Tel
:516-593-7709
East Setauket
4 Technology Drive
Suite 150
East Setauket, NY 11733
Tel
: 631-941-1400
Mineola
330 Old Country Road
Suite 100
Mineola, NY 11501
Tel
:516-739-6600
For Appointments: 1-866-SEE-OCLI (1-866-733-6254)