Andrew Greenberg, M.D.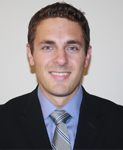 Dr. Greenberg is a board-certified ophthalmologist with advanced specialty training in the diagnosis and management of glaucoma. He also specializes in cataract surgery with intraocular lens implants, as well as anterior segment surgery.
Dr. Greenberg obtained his undergraduate degree from Cornell University. He next earned his medical degree from Drexel University College of Medicine. Dr. Greenberg completed a subsequent fellowship in glaucoma at the esteemed New York Eye and Ear Infirmary.
Undergrad School: Cornell University, 2000
Medical School: Drexel University, 2002
Fellowship: New York Eye and Ear Infirmary (Glaucoma), 2011-2012
Services Performed:
General Ophthalmology
Cataract Surgery & Intraocular Lens Implants
Glaucoma – Trabs / Shunt
Glaucoma – Minimally Invasive Procedure
Anterior Segment Surgery – Pterygium
Office Name
:
ModernEyes Ophthalmology
3509 Hempstead Turnpike
Levittown, NY
Tel
: 516-579-5400
Office Hours:
Monday – Friday: 8 a.m. – 4 p.m.
Saturday: 7 a.m. – 1 p.m.
Handicapped Accessible