Sherry Kesden, M.D.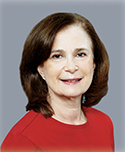 Sherry Kesden, MD, is a board-certified ophthalmologist. After completing her bachelor's degree at MIT, she earned her medical degree at Cornell University Medical College. Dr. Kesden then went on to complete an internship at Lenox Hill Hospital in New York and a residency at New York University Medical Center.
Dr. Kesden is certified on the CATALYS Femtosecond Laser to perform Laser Assisted Cataract Surgery (LACS). Dr. Kesden is an active member of many medical societies, including: the American Academy of Ophthalmology, American Society of Cataract and Refractive Surgery, Long Island Ophthalmological Society, Nassau County Medical Society, Nassau Academy of Medicine, New York State Medical Society and Nassau Surgical Society.
Dr. Kesden is an associate at Ophthalmic Consultants of Long Island, OCLI. OCLI consists of over 30 eye doctors representing most specialties of ophthalmology in eleven locations throughout Long Island: Rockville Centre, Lynbrook, Valley Stream, East Setauket, Manhasset, East Meadow, Port Jefferson, Mineola, Garden City, Massapequa and Plainview. Dr. Kesden is a partner at Island Eye Surgicenter in Carle Place.
Education
Residency — New York University Medical Center
Internship — Lenox Hill Hospital, New York, NY
Medical School — Cornell University Medical College
Undergraduate — Massachusetts Institute of Technology
Services Performed
Cataract Extraction & IOL
Trabeculectomy
ECP
Professional Activities
American Academy of Ophthalmology
American Society of Cataract and Refractive Surgery
Long Island Ophthalmological Society
Nassau County Medical Society
Nassau Academy of Medicine
New York State Medical Society
Nassau Surgical Society
Ophthalmic Consultants of Long Island – Massapequa
649 Broadway
Massapequa, NY 11758
Tel
: 516-798-1411
Office Hours: Mon.-Fri. 9 a.m.-5 p.m., Tue. night to 8 p.m.
Handicapped Accessible