Robert D. Broderick, M.D., F.A.A.O.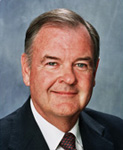 Robert D. Broderick, M.D., F.A.A.O., is a board-certified ophthalmologist offering comprehensive ophthalmology, including cataract, LASIK and glaucoma surgery. Dr. Broderick is certified on the CATALYS Femtosecond Laser to perform Laser Assisted Cataract Surgery (LACS).
Dr. Broderick is an attending ophthalmologist at St. Francis Hospital and the Island Eye Surgicenter. He has decades of experience in the field and shares his expertise through lectures and presentations both nationally and internationally.
Dr. Broderick earned his undergraduate degree from the University of Notre Dame and his medical degree from New York Medical College. He served his ophthalmology residency at St. Vincent's Medical Center in New York City and went on to complete a two-year cataract and laser eye surgery fellowship under the mentorship of an internationally admired ophthalmologist, Dr. Charles Bechert in Ft. Lauderdale, Florida.
Dr. Broderick is a Fellow of the American Academy of Ophthalmology and has served as president and vice president of several professional organizations, including the New York State Ophthalmological Society, the Long Island Ophthalmological Society and the New York Keratorefractive Society, to name a few.
Dr. Broderick is a partner of Ophthalmic Consultants of Long Island, OCLI. OCLI consists of over 30 eye doctors representing most specialties of ophthalmology in eleven locations throughout Long Island: Rockville Centre, Lynbrook, Valley Stream, East Setauket, Manhasset, East Meadow, Port Jefferson, Mineola, Garden City, Massapequa and Plainview. Dr. Broderick is also a partner at Island Eye Surgicenter in Carle Place.
Ophthalmic Consultants of Long Island – Manhasset
1355 Northern Boulevard, Suite 300
Manhasset, NY 11030
Tel
: 516-627-3232
Website: www.ocli.net/doctors-staff-long-island/dr-robert-broderick
Office Hours: Mon.-Fri. 8 a.m.-5 p.m., Sat. 8 a.m.-12 p.m.
Handicapped Accessible