JoAnn Chang, MD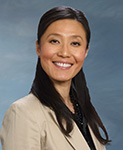 JoAnn Chang, MD, is a cornea specialist, and cataract and refractive surgeon. Dr. Chang earned her medical degree at the University of Cincinnati College of Medicine, where she was inducted into the Alpha Omega Alpha Medical Honor Society. She then completed an internship in internal medicine at the Medical College of Wisconsin. She next fulfilled a residency in ophthalmology at the University of Chicago Hospital's Department of Ophthalmology. She was then chosen to attend a fellowship in cornea and refractive surgery at the John Moran Eye Center at the University of Utah, where she obtained specialized training and experience in all the latest refractive surgical technology, including laser vision correction (e.g., LASIK/PRK) for nearsightedness, farsightedness and astigmatism.
In addition to laser vision correction procedures, Dr. Chang offers alternatives for patients who are not good candidates for these treatments, such as Visian implantable contact lens. She is also a corneal specialist with expertise in the diagnosis and treatment of corneal disease, cornea trauma and surgical complications. She specializes in corneal transplantation techniques, namely penetrating keratoplasty (PK), deep anterior lamellar keratoplasty (DALK) and Descemet's stripping automated endothelial keratoplasty (DSAEK). Dr. Chang also provides cataract surgery and intraocular lens implantation (IOL) with advanced technology lens implants for the correction of astigmatism and near vision after cataract surgery.
Dr. Chang has been active in teaching other eye surgeons techniques and methods for advanced cornea and refractive eye care through her leadership at the John Moran Eye Center. At John Moran Eye Center, she has led many presentations and lectures at the Refractive Round Table and Cornea Journal Club, where she shared her expertise in managing LASIK problems and complications, as well as diagnosing and treating cornea disease.
Dr. Chang is certified by the American Board of Ophthalmology. She is the recipient of the Harvey Klein Award for Excellence in Ophthalmology Resident Education, a member of the Alpha Chi Honor Society and has received First Honors from the American Society of Clinical Pathology. She is a member of the American Academy of Ophthalmology, the Association for Vision Research in Ophthalmology, and the American Society of Cataract and Refractive Surgery. Also, Dr. Chang speaks basic conversational Chinese.
Dr. Chang is an associate in Ophthalmic Consultants of Long Island. OCLI consists of 26 doctors representing most specialties of ophthalmology in nine locations throughout Long Island: Rockville Centre, Lynbrook, Valley Stream, East Setauket, Manhasset, East Meadow, Port Jefferson, Mineola and Garden City.
Office Name:
Ophthalmic Consultants of Long Island
Rockville Centre
2000 N. Village Avenue
Suite 402
Rockville Centre, NY 11570
Tel
:516-766-2519
Lynbrook
360 Merrick Road
3rd Floor
Lynbrook, NY 11563
Tel
:516-593-7709
Garden City
711 Stewart Avenue
Suite 160
Garden City, NY 11530
Tel
:516-500-4200
Office Hours: Mon. 12 p.m-7 p.m., Tue. 9 a.m.-3 p.m., Wed. 9 a.m.-11 a.m., Fri. 9 a.m.-2 p.m.
For Appointments: 1-866-SEE-OCLI (1-866-733-6254)
Website: http://www.ocli.net/physicians/ocli-chang.htm