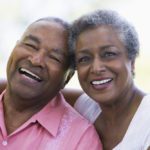 Scientists at the University of California, San Francisco, have made a discovery that could help the millions of Americans that lose vision to cataracts. Previously treated only through surgery, cataracts were found to respond to steroid eye drops in a UCSF study of mice. Here, the team at Island Eye Surgicenter explains more.
Steroid Eye Drops Tease Apart Protein Clumps of Cataracts
The eye's lens is mostly made up of special proteins that help the eye focus and keep the lens clear. A healthy eye has two specific proteins, known as CRYAA and CRYAB, which prevent other damaged and mutated proteins from accumulating into clumps. But with age, CRYAA and CRYAB become overwhelmed and cannot do their job. As a result, mutated proteins clump together, creating the cloudiness and opacity of a cataract.
Because many people do not have the access to surgical cataract removal, researchers have been looking at alternative drug therapy for years. As the UCSF team began their work, they decided to look at the temperatures at which proteins start to melt. They discovered that mutated proteins (like the kind that cause cataracts) melt at a higher temperature than normal proteins, and claimed that reducing the melting point of the mutant proteins could decrease the clumping that forms cataracts.
The team then went about finding a molecule to bind to mutated proteins and lower its melting temperature; they settled on a steroid naturally found in the bloodstream (but not in the lens, which does not have a blood supply).
The UCSF team tested their theory on a group of mice with age-related and hereditary cataracts. They gave the mice eye drops in the right eye, leaving the left untreated. A single drop of the compound was administered to each mouse three times a week for two weeks. Four weeks after stopping treatment, the team noticed that the treated eyes were clearer.
The UCSF study is not the first to find that these steroid eye drops can reverse cataracts. A team of researchers from the University of California, San Diego, found that a steroid found in the human eye reversed cataracts in dogs.
What This Means for You
It is still unclear exactly how the steroid eye drops work to break up the clumps of proteins that form cataracts. Further study is needed to determine how this therapy could work on human eyes, which are quite different from mice or dog eyes. However, when you consider that 20 million people worldwide are blind as a result of cataracts, these findings are certainly promising for the future.
To learn more about cataracts and how the Island Eye Surgicenter team currently treats them, please call (516) 877-2400 or email us today.